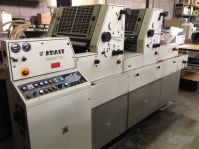 Standard dampening, perfecting machine. Incl. numbering + perforating.
Year: 1995
Impressions: approx. 28.000.000
Ref. no.: 2678
More info Adast Dominant 526 P
Lefema Graphic Machinery
Krommewetering 111
3543 AN Utrecht The Netherlands
T +31 30 -28 96 755
info@lefema.nl
Parts
Revision
Maintenance
Buying & selling of machines
and lots more!
News
Grafiteam verder onder gld print & media - 20 jul
Gld print & media in Arnhem heeft Grafiteam uit Veenendaal overgenomen. De overname door Gld volgt op een jarenlange samenwerking tussen beide ondernemingen. Uit het bericht: Deze overname past in de strategie van de beide...